Home
Message Board
Classified Ads
Pictures of i-Series Friends
The BSQ Page
The Songlist Page
Korg i1, i2, i3, i4S
Art Morrison's Files
Tips for i3 users
The i5S, i5M, iX300, IS35, IS40, i40M, IS50
The i30!
i30 Tips & Downloads
Mark Kleiman
Building A Studio
PA1X Pro, PA60 and PA80
Digital Recording
Denny Flynn
Juozas Muzikevicius
Chuck Delp
The Yellow Submarine Page
The MP3 page
Korg Links
Glen's Korg Site



The Korg ih...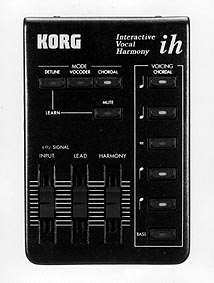 Dennis once told me that the ih was the "best little bit of kit" he had ever purchased. I wholeheartedly agree. This technology, found also on Digitech units, was developed by a Canadian company called IVL Industries. The unique thing, however, that sets this small wonder made by Korg apart is how well it performs when paired with an i-series keyboard, which it was designed to compliment. Receiving System Exclusive chord data from the i-series, it adds vocal harmonies at selected intervals you choose above and below the natural voice. What truly sets the ih apart is how it can "learn" it's part by allowing the i-series keyboard, in it's own turn, receive voice pattern data BACK from the ih and record it in a backing sequence in real time. The next time the i-series plays the backing sequence, the Korg ih provides the exact same voicing patterns on cue, automatically! A great little bit of kit? You bet!!! Another fine product to compliment the i-series that is no longer made. Find one, (or two), and add a little magic to your life...

Should you find an ih, you will likely not have the manual with it. Here is a pdf file that has been contributed by Dennis Flynn:
OK, what OTHER gem has Dennis contributed? Here comes a plug...Dennis has made to date two terrific CD's based on his use of the i30. He described to me his setup, and after hearing his music, I was utterly astonished at the calibre of his music, especially given the beautiful simplicity of his method, and his writing...terrific! I will add a link so you can send him an email and maybe if you're nice, he will sent you a copy of the CD, maybe for the cost of shipping. But, I digress...What did he contribute to this site? I have always wanted a printed list of popular songs that showed lyrics and had the accompanying chord progressions. Dennis sent me a vast database of just such a work. J. Two Shoes, one of our friends, who, through a bit of bad luck, is calling himself J. One Shoe just now, called this download the mother of all downloads. Thank you, Dennis. Enjoy!!!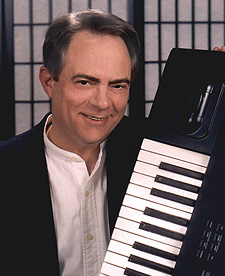 Click here for two very special treats... One is Denny's updated songlist... The second is an i30 "set" that goes with the songlist, and best of all, has a terrific grand piano that originated with Denny's i2, which he tweaked to best advantage for the i30 in his never ending quest for that sometimes elusive grand we all chase after...
Denny's .pdf overview of the songlist...
If at all possible, you really must get ahold of one of Denny's CD's. His latest, called "Restitution" is fabulous. If you ever wanted to see what really can be done with an i30, get this CD. Denny writes most all of his material, and boy, I tell ya what...can he write!