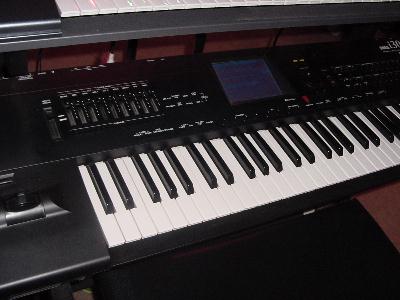 The i30 makes a good companion to other synths, providing the backbone of style arrangements to accompany the lead sounds of killer synths. Although...with it's 64 voice capability, twin oscillators on each program, sophisticated effects placement and parameters, and programmability, it can get out of it's own way just fine, this is a good sounding synth, honest and true, not overly bright and austentatious, just rich and full...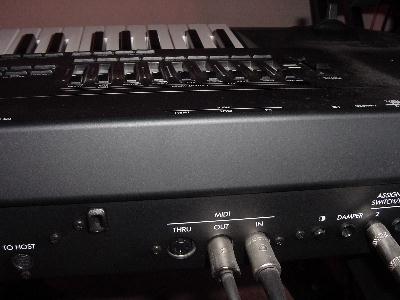 The i30 fits seamlessly into midi environments. I use mine to send SYSEX chord data to the Korg ih vocal harmonizer (more about the ih on other pages), and also, I control the chords of the i30 using chord data via midi from the Korg CX-3 combo organ, letting the i30 be the backup band, but controlling it with the lower keys of the organ! The sky is the limit...
With a hard disk drive built in, which can easily be done with surprisingly little expense, you have all the room you need right on board the i30 for all the styles, arrangements, sounds, and midi files that you could ever hope for...I don't know of one i30 owner that is even any where close to filling their disk, even long-time owners like myself.
The onboard mixer is a true joy to work with. You can adjust the mix in realtime, even in live performance!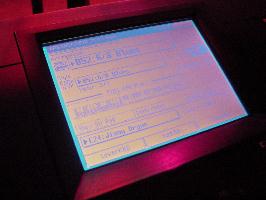 The touchscreen...Definately one of my favorite features of the i30. How many buttons does this one feature save? Once I spent an entire afternoon copying styles and midi files from floppies onto various directories that I was creating on the i30. The whole time, I only pushed one button! The touchscreen did the rest. Want to see the exact layout of your effects settings displayed graphically? All six configurations are displayed, like roadmaps. And editing - a breeze on the i30...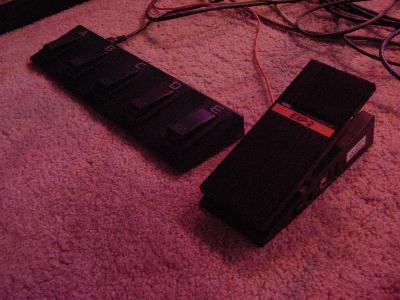 Two important accessories for the i30: The Korg EXP-2 Expression Pedal and the Korg EC-5 Footswitch...
More i30 Tips:
OK, ran out of pictures, so from here on down it's more tips. Here is one from Pete C. about making multitrack recordings off a synth like the i30 and being able to add specific effects to each and every track, rather that having them applied globally. This uses Cool Edit Pro so the result is a multitrack AUDIO recording.
Click here for a tip on how to remove unwanted notes from a pattern, e.g. a style pattern or song mode pattern...
Ever wanted to use your i30 as a straight synth using combis? Click here for instructions on how to layer up to 16 different sounds, "pan-position" each one, set the pitch/detune of each, add any 2 effects to that combination, i.e. have a tremendous number of new sounds that can be made on the i30! Another great effort by Pete C.
There is a bug with the KBD LOCK feature of the i30. Here is an effective one-button workaround contributed by Pete C...